Purpose:
To backup existing Synergize printer settings and restore them on another Synergize printer on the same windows computer or on a different computer. This can also be used in case of a re-install situation.
Disclaimer:
*Please read the article thoroughly and only proceed if you have clear understanding on required steps. If you are unsure of how to process this or where to process this, please consult your IT personnel.
*Please process the following using an administrator account.
Use the below reference article to know more about how to share the Synergize virtual printer.
https://support.microdea.com/hc/en-us/articles/215266638-How-To-Share-a-Synergize-Printer-on-a-Windows-server
Follow the below reference article to know more about how to set up the shared Synergize virtual printer on Windows client OS.
https://support.microdea.com/hc/en-us/articles/215933247-How-To-Add-a-shared-Synergize-Printer-on-a-Windows-machine
If you have downloaded the application installer through online link, please make sure to unblock the installer before installing on user PC or any server.
Right click on the document and check the Unblock check mark and hit Apply.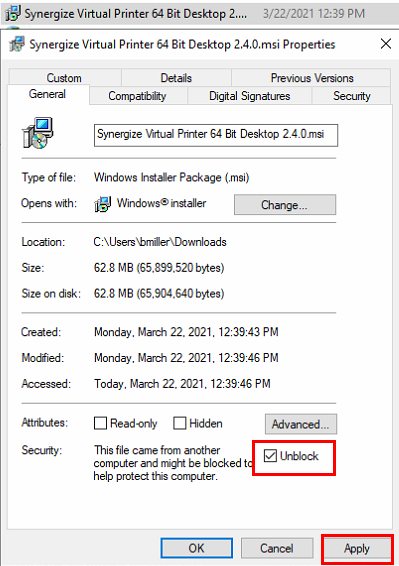 In order to know how to install/setup Synergize virtual printer, follow the knowledge base article below. To get the install files please reach out to the Microdea support team.
Install/Setup_Synergize_Virtual_Printer
How to backup preferences before uninstalling printer
Please note these preferences are specific to each instance of printer. If you have more than one instance of Synergize Virtual printer installed, please process below steps on each instance.
Manual way:
For each printer instance, you can take screenshots of each property window and manually setup them after the printer upgrade using the screenshots.
Follow these steps to get to preferences and screenshot each tab.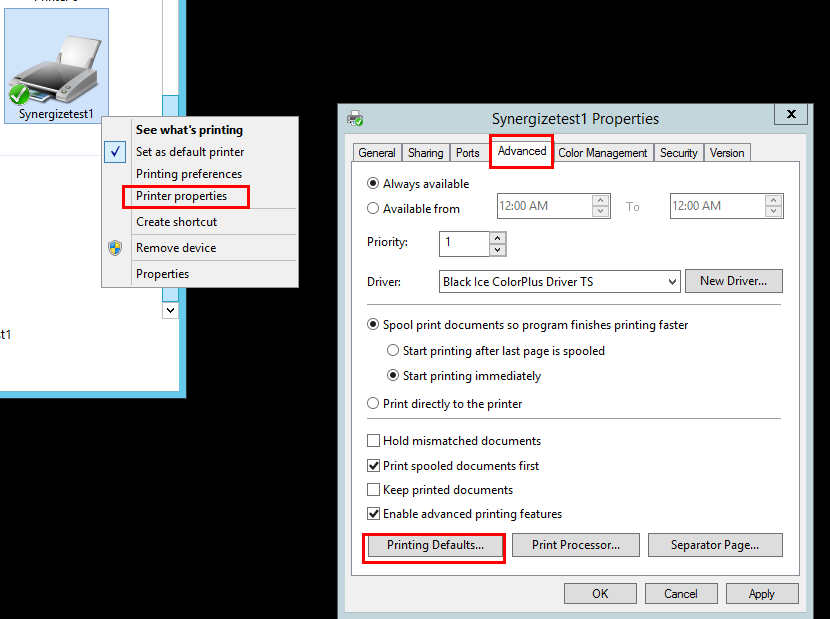 Here are the key configurations that you need to preserve: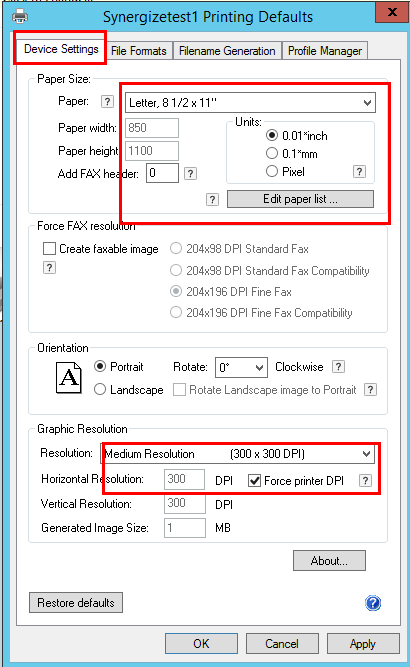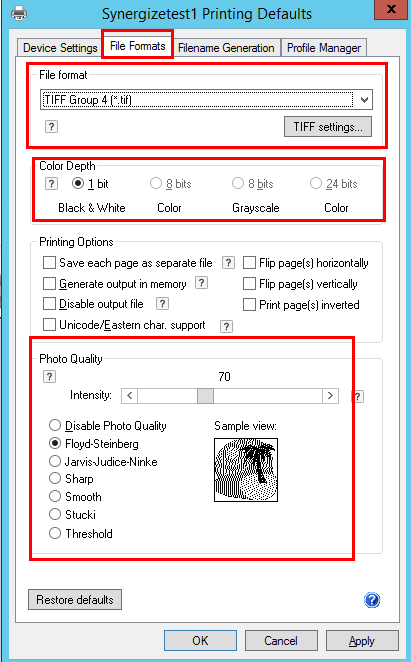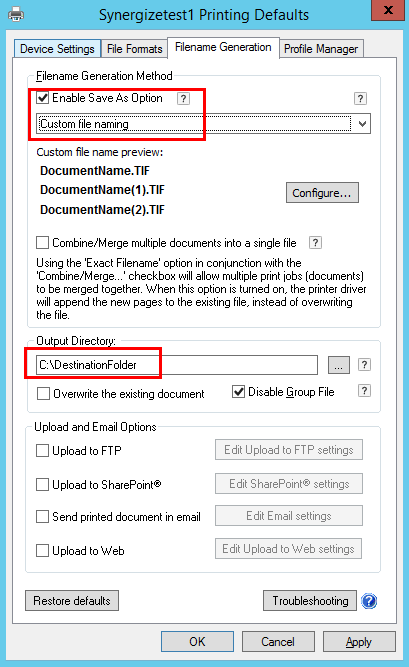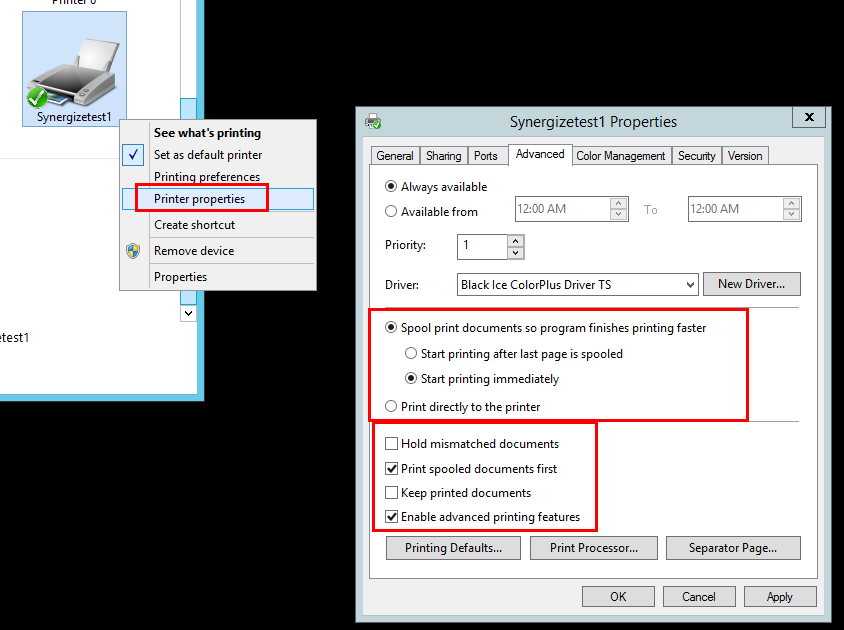 Other way:
1. Open devices and printers from the control panel. Right-click on the Synergize printer that is in use and select printer properties. For example, "Synergize Virtual Printer 2" is used.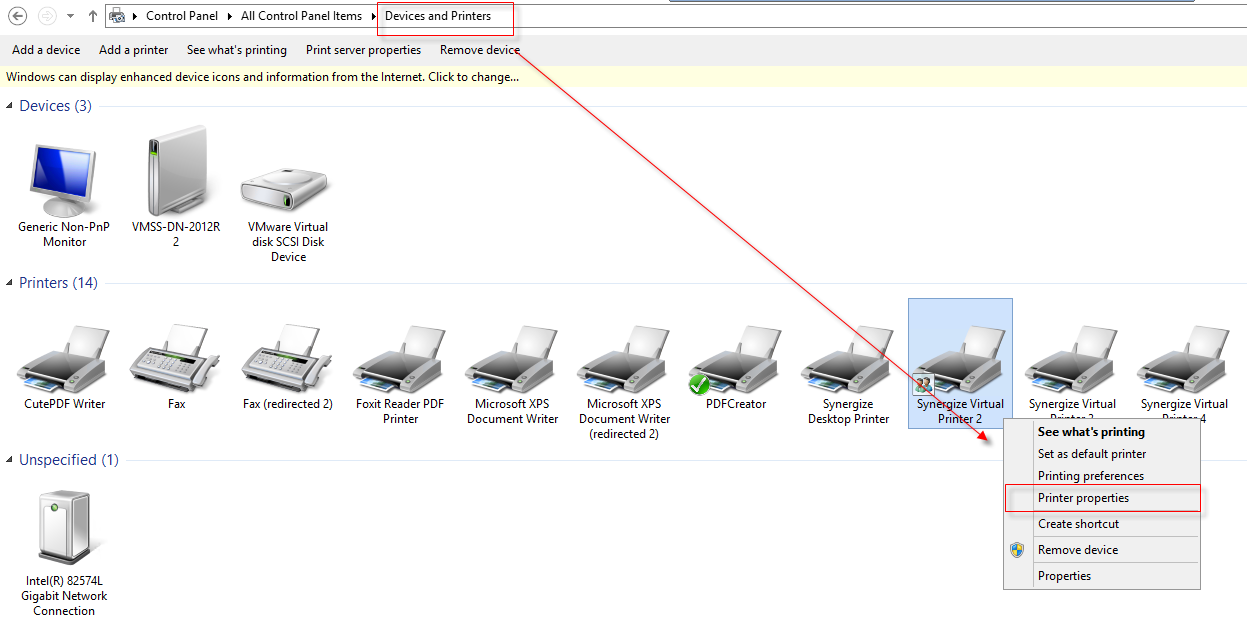 2. Under properties -> Select Advanced tab -> Printing Defaults.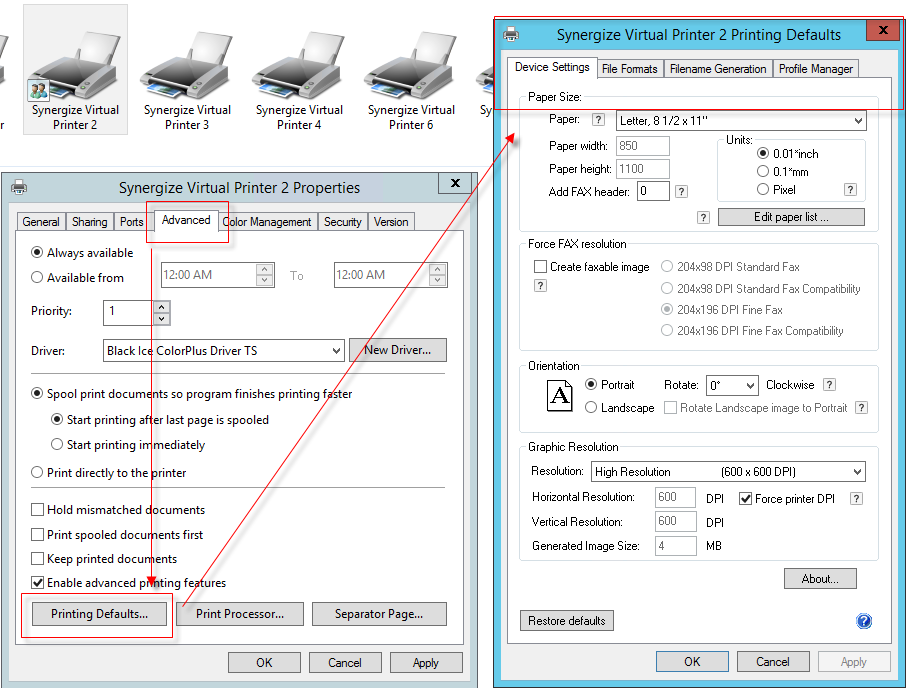 3. Use the "Save current settings as a new profile" option to save the existing settings in play on the "Synergize Virtual Printer 2".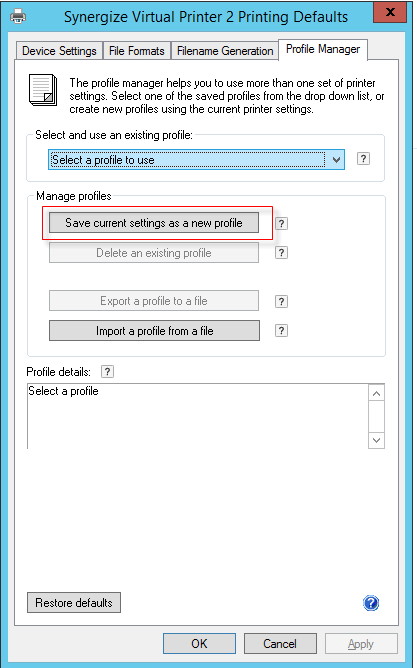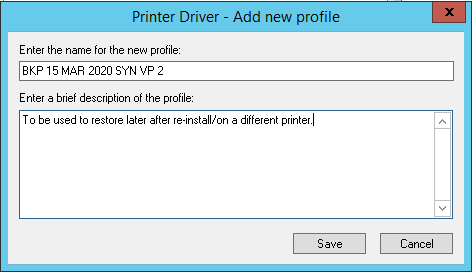 4. Once the profile is created, it can now be exported to be used elsewhere. Use the "Export a profile to a file" option and then select "Export an existing profile" to save the settings file on the disk.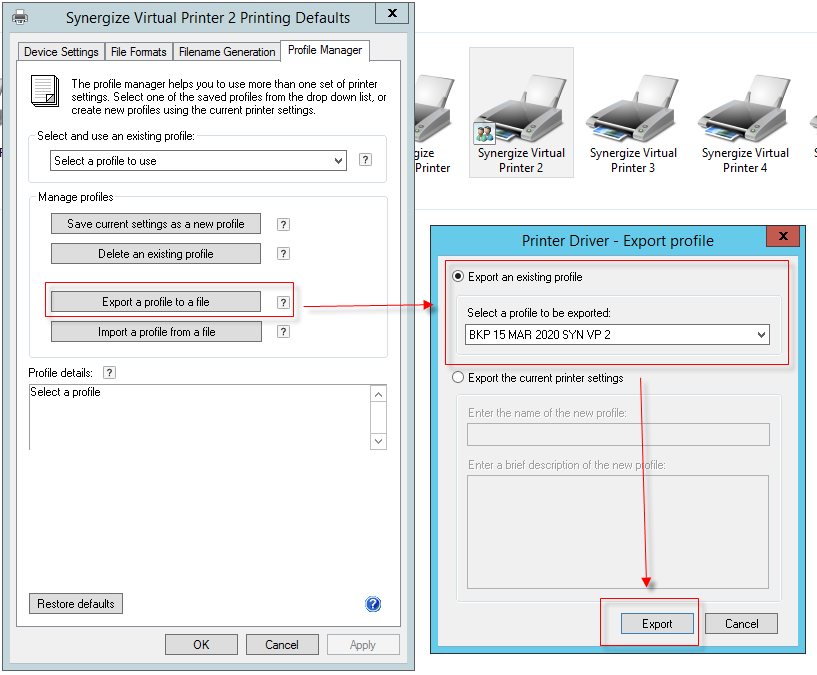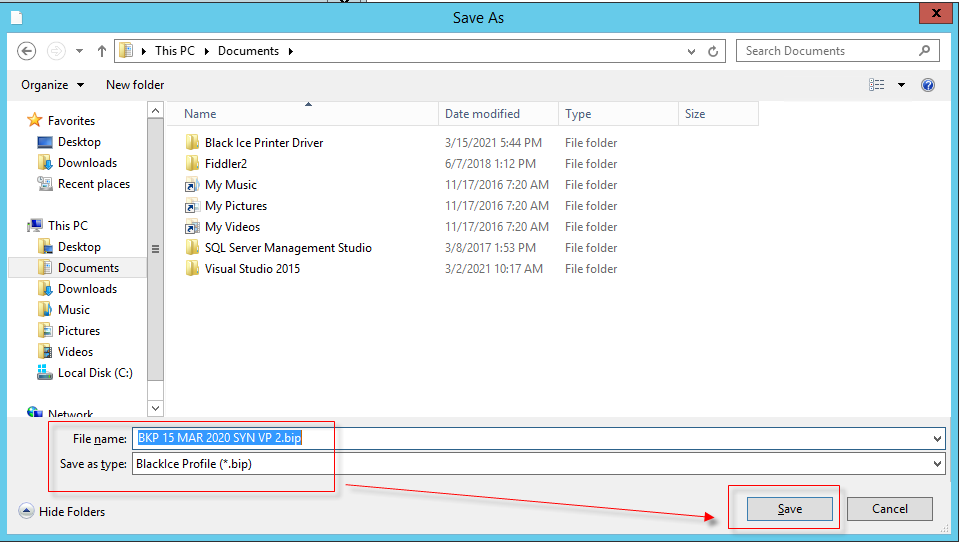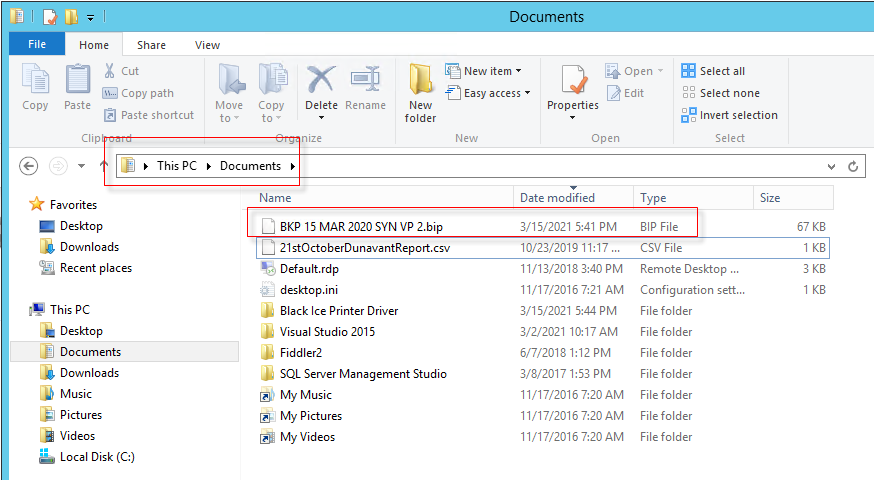 Steps for restore:
1. Choose the Synergize printer - the one where the settings need to be restored. For this scenario, "Synergize Virtual Printer 3" is chosen on this server.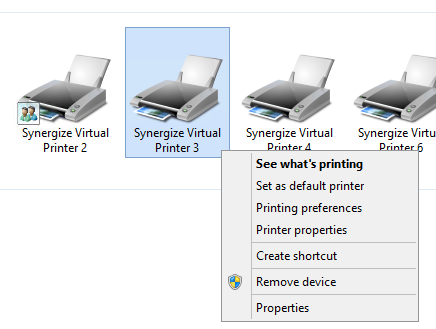 2. Under printer properties choose advanced -> printing defaults. A separate window opens up. On that window choose the "Profile Manager" tab to use "Import a profile from a file".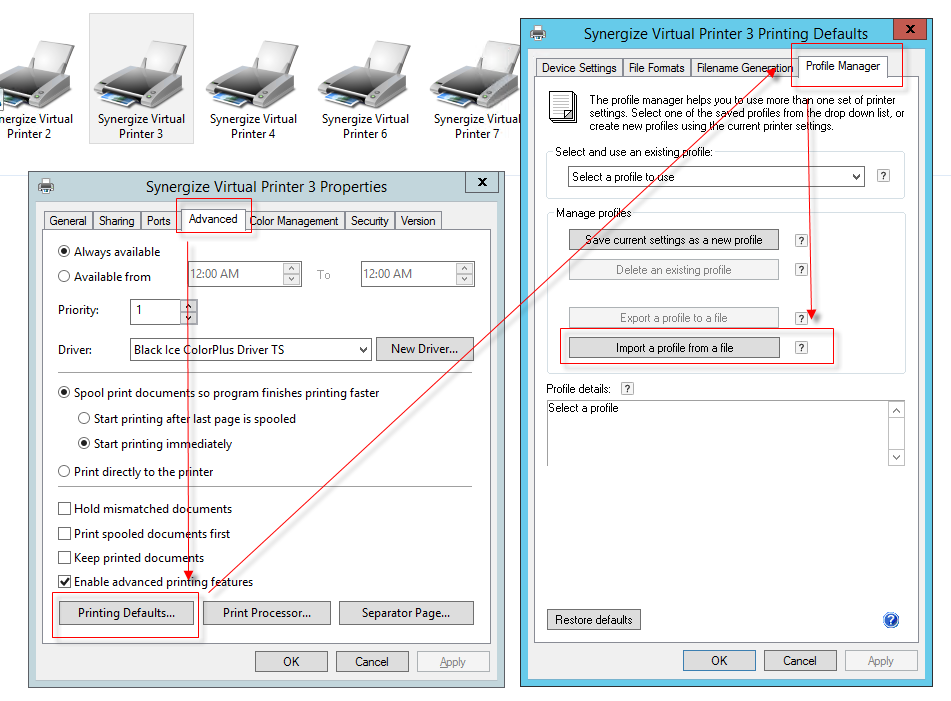 3. Choose the backup file(.bip) that was from the other printer named Synergize Virtual Printer 2.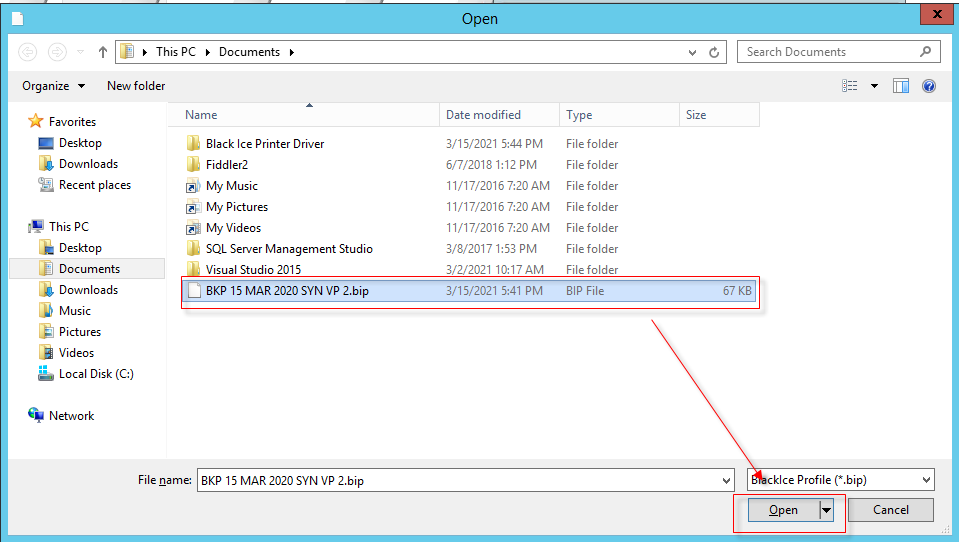 4. Select the restored profile from the drop-down and apply the settings to the new virtual printer.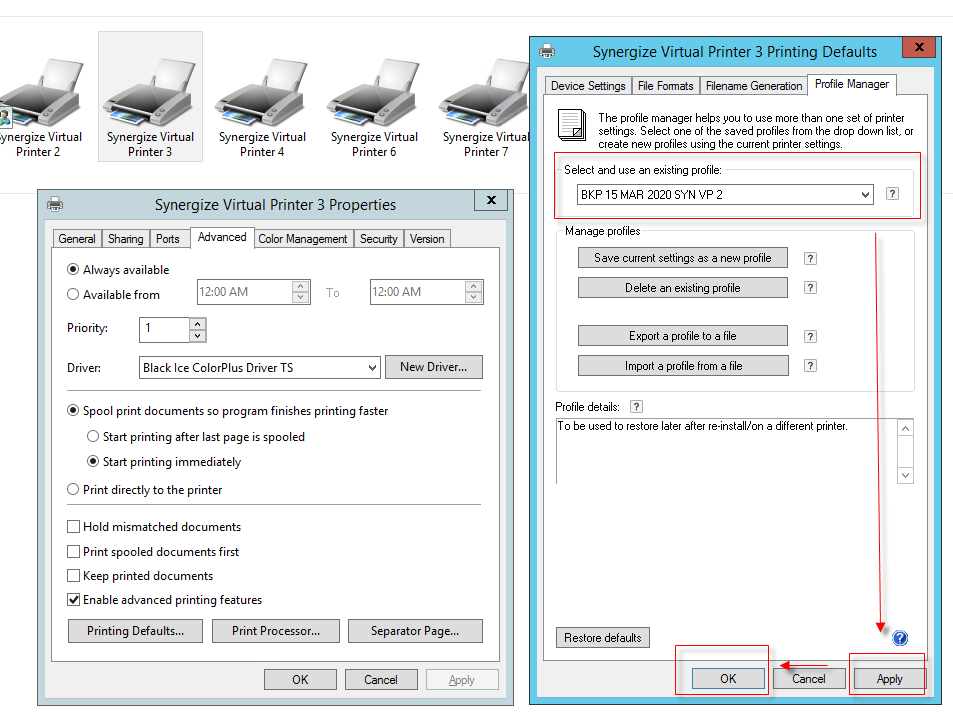 If you have further questions regarding this process please feel free to reach out to Microdea support.